10 reasons why tyres aren't as boring as you might think
---
Okay, they may just be pretty uninteresting black circles at face value, but if you stop and think for a moment, your tyres are literally the only contact between you, your car and the road beneath, at speeds of anywhere upto 70mph. It's a humbling thought, right?
We understand that very few of our customers can afford to drive around in shiny new cars, and even other drivers with decades of experience and much more spare cash in their accounts don't like parting with money for tyres if they can help it.
1. Back in history, early car tyres were actually white
It's pretty weird to imagine, but when the first rubber car tyres were invented in 1895, they were actually white, which is the natural colour of rubber; but tyre producers discovered around 25 years later in the early 1900s that using something called 'carbon black' makes tyres stronger, keeps them cooler and helps them last longer. Fast forward to 2017 and modern tyres tend to use a substance called Silica, which basically comes from sand.
2. Some roads are made from recycled tyres
Since 2006 when it became illegal for whole or shredded tyres to be dumped on landfill sites anywhere in Europe, it has become more and more common for old tyres to be used in making new road surfaces, which scientifically happen to be quieter, which helps to reduce heart attacks, would you believe?
3. The world's busiest tyre manufacturer probably isn't who you'd expect
Asked to name some companies that make tyres, there's a good chance you'd think of the likes of Pirelli, Continental and Michelin, but the firm that produces the most tyres is actually LEGO, popping out well over 300 million black circles every year, which is almost double the quantity Michelin manages.
4. Over a third of new cars sold in recent years have not come fitted with a spare tyre
It might sound a bit scary but it's becoming far more common for car manufacturers to choose not to fit a proper spare tyre to their new models, providing a tyre inflation kit instead, which is meant as a temporary fix to enable someone to drive on to the nearest garage or tyre fitter. One main reason why kits are becoming much more popular than spares is because they weigh much less, which improves a car's fuel economy.
5. Having too much air in your tyres is just as dangerous as if they are under-inflated
Tyre pressure can affect a car's fuel consumption, how safe it is and the way it handles, so it's important to check the pressures regularly to keep them matching whatever PSI or BAR figure is printed in your car's instruction booklet or behind the fuel filler cap. Over-inflated tyres with too much air in them tend to wear out more quickly in the middle, basically making them bald, which means they'll be dangerous in the wet.
6. Mid-range and budget tyres are actually often made by companies who produce premium tyres
If you've been comparing tyre prices online and come across cheaper tyre brands you've not heard of before, it's pretty likely that a more recognisable tyre producer will own them in the background. For example, NEXEN tyres are made by Michelin, FEDERAL tyres is owned by Bridgestone, and BARUM tyres are made by Continental. This means that mid-range tyres aren't necessarily relatively rubbish and some budget tyres are even worth considering, too, as the posher parent brands behind cheaper tyre companies will legally have to make sure their tyres meet the minimum safety standards. It's still recommended to get the most expensive tyres you can afford, though, as premium tyres tend to last longer and perform that little bit better in terms of safety.
7. Part-worn tyres are best to be avoided
TyreSafe, Durham County Council's consumer protection squad visited a number of part-worn tyre traders and found that only one out of 39 tyres was legal and therefore safe. Over 25% of the tyres they examined were over 10 years old, meaning they aren't fit for use any more, while the same percentage had been repaired to unsafe standards. It may be tempting to save money by getting one or more part-worn tyres fitted, but you'll clearly be exposing yourself to potential dangers.
8. Not feeling confident to put your spare wheel on? Let the tyre fitter come to you
Loads of mobile tyre-fitting services exist these days that can come to your house, college, workplace or many other places to professionally fit one or more tyres for you, saving you having to get mucky or perhaps not do the job properly. Many mobile tyre fitters can also make sure that your wheels are properly 'balanced', too – although you'll still need to visit a garage if you want someone to check your wheels' alignment, or 'tracking' as it's often called.
9. Tyres can generally last for up to around ten years
There's usually no need to replace your car's tyres every few years if they still all have more than the minimum legal tread depth of 1.6mm on them, if they seem to be wearing evenly with no bald spots or scuffing, and they haven't been damaged in any other ways. As long as tyres are looked after carefully, inflated regularly and treated with respect, they can often last for up to around ten years, at which point it's usually recommend to think about changing them.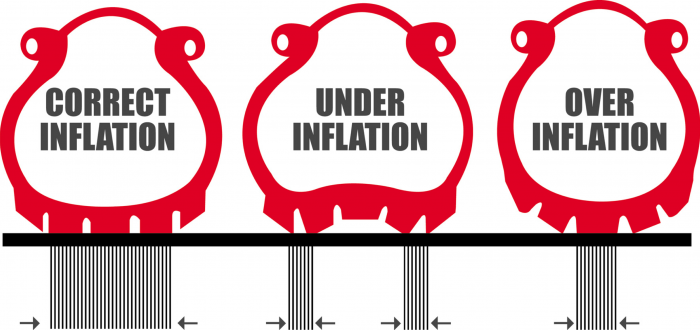 10. Try to maintain matching brands, tread patterns and tread depths along at least each axle
By this, we mean that it's better for safety and fuel economy reasons if the two front tyres and/or the two rear tyres are the same brand and age and have the same tread pattern. Having one new front tyre with 8mm tread on it while the other older front tyre has 4mm tread on it, for example, will probably play havoc with the car's handling, so it's best to replace both front tyres and/or both rear tyres at the same time if you get a puncture or need a new tyre for any other reason. Tyres have distinct tread patterns which can affect the rate the wheels turn at, which is another reason why it's best to replace tyres in pairs if possible.
So, there you have it – next time you're out for a coffee or beer with your mates, you can impress them with one of these quirky tyre facts. Okay, maybe not, but at least some of the advice will help keep you safer on the roads.
---
Most commonly asked questions